Portable IMSI / IMEI Catcher
Portable IMSI catcher introduces a new age for tactical systems in the services of intelligence agencies. This highly compact device which fits neatly into a jacket pocket allows conducting close-up operations covertly while being located in the immediate vicinity of targets.
Our mini IMSI Catcher can also be used as portable cellular locator (PCL) for tactical geo-location tracking and identity extraction. The device fully supports all GSM (900/1800, 850/1900), UMTS (2100, 1900, 1700, 900, 850), 4G/LTE & 5G bands and runs on battery that lasts for 6+ hours.
Combined with another compact unit, which does not even necessarily has to be located next to it, it also provides full interception capabilities (Call Interceptor, SMS and Data).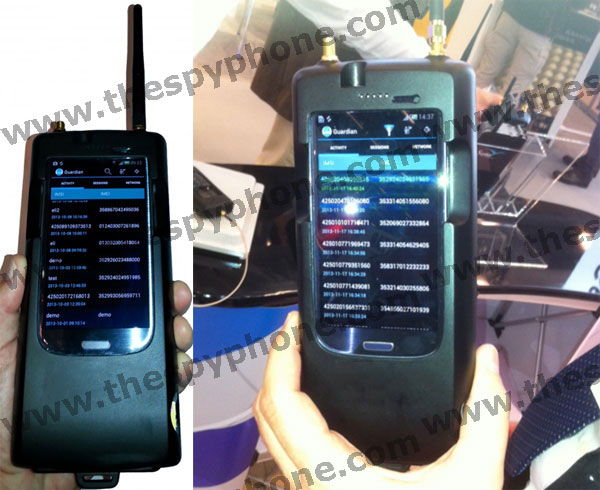 Direction-finding system;
Untraceable IMSI / IMEI extraction and tracking for 2G, 3G, 4G & 5G;
Location tracking: RF Measurements based positioning, distance measurements, distance measurements intersection, power reading measurements, Active Positioning:
Interception capabilities: Voice, SMS, Data (optional), SMS modification (optional);
Real time deciphering & interception: (require 2 units);
High range operation;
Silent Ring. Call to target feature;
User friendly touch screen interface;
Automatic target search;
Robust and fast operation;
Compact and lightweight solution.
Operation System: Android 4.4.4;
Antenna: (directional / omni-directional);
Supported frequency bands: 700/850/900 /1500/1700/1900 /2100/2600 (GSM, UMTS, CDMA, LTE, 5G);
Intercepts: IMSI, IMEI, TMSI, IMEI-SV;
System output: up to 500 mW;
Power source: 12V DC;
Active range: 300m;
Battery: Li-Ion, 6+ hours (standard working time);
Dimensions: HWD 19.5×9.2×4.2 cm;
Weight: 0.6 kg;
Delivery set: IMSI Catcher, Laptop, antenna, protective case, software;
Shipping: Worldwide.
SS7 Geolocation & surveillance of any cell phone
SkyTrack is a unique SS7 protocol based solution designed to locate, track, intercept voice calls, SMS and manipulate GSM / 3G / 4G subscribers covertly virtually anywhere in the world, all in real-time using a very friendly user-interface and graphical supported maps, even if the subscriber's mobile phone is not GPS enabled. SS7 geolocation & surveillance.
Tactical Wi-Fi interceptor
Our tactical Wi-Fi interception automatically generates access to the data traffic of your targets' laptops, tablets, and smart-phones (Android, iOS, Windows Mobile), and silently intercepts the targets' communications. Our high-tech Wi-Fi spy solution automatically gathers highly valuable intelligence. View Details.